is a Virtual Company, based in a small office that serves as a computer laboratory and repair facility. Qualified associates with demonstrated capabilities are added to projects as needed. The team can grow to whatever complement is required for the task.

's home base is at The Philadelphian Condominium in the Art Museum section of Philadelphia.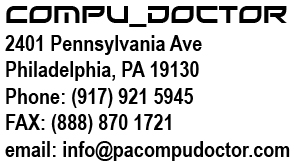 Computers to be repaired may be dropped off at the office, or arrangments can be made for pick-up and delivery. Photographic prints to be restored may be dropped off, picked up or mailed (use rigid cardboard to prevent damage; buy insurance). Digital or scanned photographs to be restored or touched up may be emailed to photo@pacompudoctor.com.